Update on Ukrainian Refugee Scheme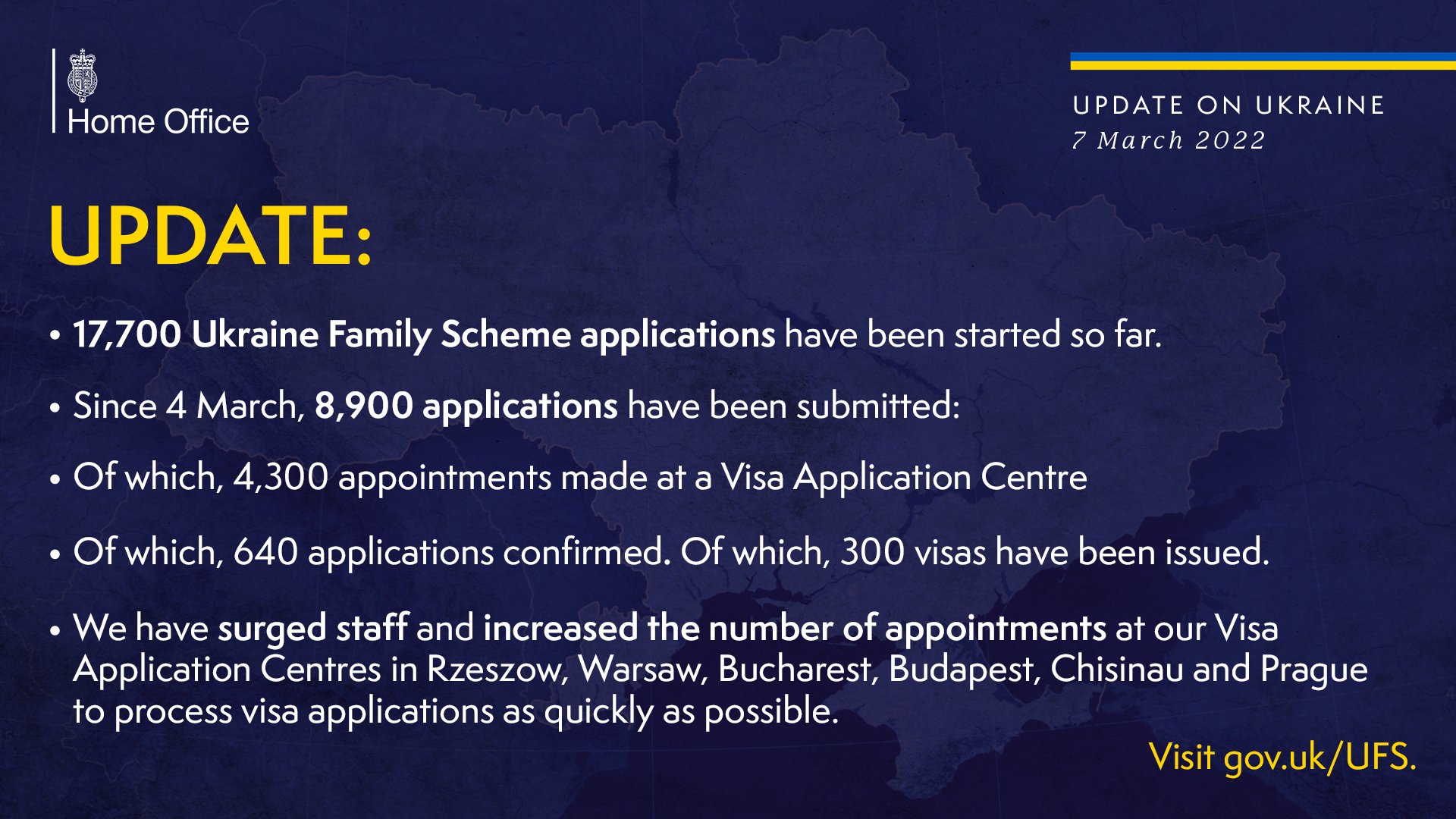 The Prime Minister has been clear that we will do what we can to assist refugees from Ukraine. It is right that we are compassionate but it is also right that we act in a way which does not jeopardise the security of our country. Given reports that Russian activists are disguising themselves as Ukrainian refugees, a process which determines exactly who we are allowing to come to the UK is important, but so is the need to make it as quick, easy and as fast as possible.
At the time of reports on Monday morning, the scheme, the first scheme of its kind in the world that's up and running, had been in place for two days. During this set up time, applications were completed more slowly than all of us would like but that has already started to pick up. When the press were quoting 50 visas had been issued, the corresponding figures at that time were that 11,750 applications had begun online, 5,535 had been completed, and 2,368 appointments were booked to submit biometric information. These are improving by the hour. I am assured that the Government is doing everything possible, surging capacity across every single application centre across the EU and flying staff into Ukraine's border countries to speed up applications. Staff have been sent to centres in nearby countries, including Poland, Moldova, Romania and Hungary, to help those who made it across the border. Most Ukrainian refugees are in the countries bordering Ukraine and that is where they want to stay and we are providing humanitarian support for them there as well.
I have, however, made it clear to the Government that I still expect them to do more to support Ukrainian citizens who seek refuge here. I have many Ukrainian friends and have already heard heart-breaking stories from them of the increasing loss of life. While we cannot send troops, I hope that all Western nations will do all they can to assist those who are fighting to defend their country and also the innocent civilians being forced to flee.
Russia's actions are likely to bring painful consequences for us all in terms of higher energy costs, a surge of refugees and the damage to world order and international law. However, these are small compared to the agonies of the innocent people of Ukraine and it is them who we must do all we can to support. I am heartened by the messages that I have received from constituents, offering to accommodate displaced Ukrainian families here in Maldon. I hope that once the details of the settlement scheme are announced that there will be a way for people to register offers of help and support.
I have visited Ukraine many times in the past ten years and have a great deal of respect and admiration for this independent sovereign nation which upholds democracy and western values. Its Government, overwhelmingly endorsed by its people in the most recent elections, have made clear their determination to join the free nations of the Western World and in due course to become members of the EU and NATO. As an independent sovereign state, they are fully entitled to do so. It is their success which so frightens President Putin whose declared ambition is to restore the power and borders of the Soviet Union.
I very much welcome the leadership that the UK Government has shown both in supporting Ukraine and in seeking the toughest sanctions against Russia. The Russian economy is already feeling the effects of war, and the sanctions could over time further cause the Russian stock market to falter, deflate the value of the ruble — which has hit an all-time low — and make doing business in Russia increasingly difficult. I note that you are keen that individuals face sanctions and asset seizures. However, an amendment laid by Lord Pannick when this law was transferred on to the UK statute book when we left the EU, ensured sanctions "provided for procedural fairness" for those being sanctioned. This has made it more legally challenging for the Government to sanction individuals. They remain committed to do so.
Putin's willingness to tear up the pledges that Russia has made in the Helsinki Final Act, the UN Charter, and most recently the Minsk Agreements shows that this is not someone who we can trust or do business with. It is essential for global security that his aggression is not allowed to succeed.