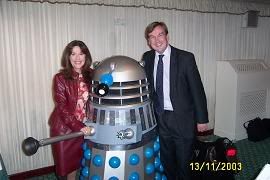 John Whittingdale face to face with Daleks!
As a fan since boyhood of Dr Who, John could not refuse the chance to meet a Dalek and former Dr Who assistant Elizabeth Sladen who played Sarah Jane when both visited the House of Commons to mark the 40th anniversary of the Time Lord in November.
Did you know…the 1973 story, Carnival of Monsters, was filmed in the Maldon and East
Chelmsford constituency around Tillingham Marshes.