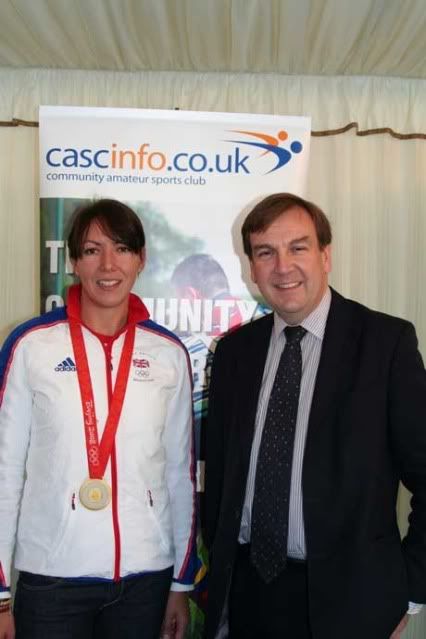 John Whittingdale and Olympian Rebecca Romero add gold to community sports clubs campaign.
John Whittingdale joined up with two-time Olympic medallist Rebecca Romero this week to support CCPR's Subs for Clubs campaign. Romero, track cycling gold medallist in Beijing, as well as silver rowing medallist in Athens was in the House of Commons to show off her medals and tell MPs about the importance of community sports clubs.
The aim of CCPR's Subs for Clubs campaign is to allow Community Amateur Sports Clubs (CASCs) to claim Gift Aid on junior membership subscriptions – just as organisations like the National Trust are permitted to do on their subscriptions. Currently 51% of sports clubs operate at a deficit or just manage to break even.
The cost would be small – £1.2 million in the first year rising to £4.4 million by 2012 – but the value to community sport would be enormous, allowing clubs to improve their facilities, train and improve their coaches, and re-invest in vital kit.
Rebecca Romero, 2008 Olympic track cycling champion and 2004 rowing silver medallist said:"Without grassroots provision, elite success is not possible. Even though we do not know who many of them are yet, our Olympic champions of the future are being given a chance to succeed at community sports clubs across the country. This is why it is so vital that community clubs are given as much financial help and support as possible. Allowing them to reclaim Gift Aid on junior subscriptions is a step in the right direction."
John Whittingdale said: "With an ageing and growing population, as well as an obesity crisis looming, we have to support sports clubs which help us to lead healthy and active lives. Community sport is the base from which elite success springs and I am particularly proud that xxx (my constituency) has a variety of sports clubs so that people can get involved.
"This is why I support CCPR's Subs for Clubs campaign to allow sports clubs to claim Gift Aid on junior subscriptions, providing a much needed resource for these clubs who contribute so much to our community."