Plans for Broomfield Hospital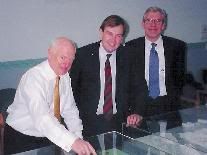 John Whittingdale was recently briefed by the Chairman and Chief Executive of Mid Essex Hospitals Trust on plans for the redevelopment and extension of Broomfield Hospital.
The Trust will shortly be choosing the preferred bidder following widespread consultation on the two alternative schemes. John said: " I am delighted that it looks like plans to build the new Broomfield Hospital are well on track with a forecast opening at the end of 2008. In particular, I strongly support the intention to considerably increase the amount of car parking spaces. Lack of car parking facilities is a constant source of complaint from my constituents, many of whom have to travel long distances to get to Broomfield. I am delighted that this is at last going to be put right.
Pictured above: John with David Bullock, Chairman of Mid Essex Hospitals Trust and Andrew Pike, Chief Executive.