John Whittingdale officiated at a train-naming ceremony at Wickford station to mark the 125th anniversary of the Crouch Valley Line.
The train naming ceremony completed a series of events put together by Abellio Greater Anglia and the Essex and South Suffolk Community Rail Partnership to celebrate the anniversary. Originally called the 'Dengie Hundred' section of Essex Railways; The Crouch Valley Line, as it has become known, was opened to passengers in July 1889 by the Great Eastern Railway Company. This 16.5 mile stretch of railway is now operated by Abellio Greater Anglia who run 334 services a week with approximately 1.6 million passenger journeys a year made through the seven stations along the route.
John Whittingdale MP unveiled the newly named Class 321 train 'Crouch Valley 1889 – 2014' to honour the occasion and an additional commemorative plaque was presented to John Jolly to be exhibited at the Mangapps railway museum in Burnham on Crouch.
John Whittingdale MP said, "I am delighted to be able to take part in this naming ceremony of the new "Crouch Valley 1889-2014" train, which is the culmination of the events to celebrate the 125th anniversary of the Crouch Valley line. Having already attended events at both South Woodham Ferrers and Burnham on Crouch stations marking the anniversary, I am very conscious of the importance of the line to my constituents. I very much welcome the commitment shown by Abellio Greater Anglia to the future of the service which I know will be of great reassurance to passengers and to local residents."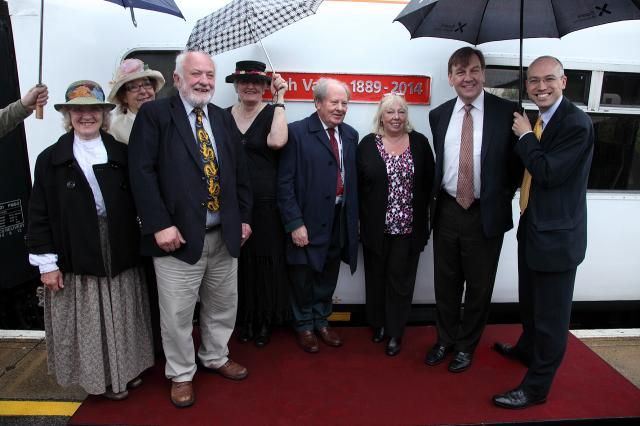 John Whittingdale is pictured unveiling the new train with Jonathan Denby, Head of Corporate Affairs for Greater Anglia and later with Una Norman, Cllr Bob Boyce, Ursula Benjafield, County Councillor Ray Howard and Jonathan Denby.